Treeland
T
r
o
o
p
 8
0
 T
r
e
e
l
a
n
d
Since 1959
Merry
Christmas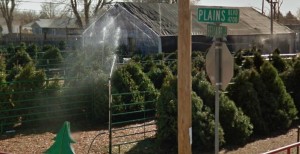 Updated: 11-30-2017 Location:   Plains Boulevard and Bellaire Street, Amarillo, Texas. 
Click here
for a map.
Phone:
806-351-2595
Lot Manager 2017:
Doug Sahli
Hours:
Monday through Friday: 10:00 a.m. to 9:00 p.m.
Saturday: 10:00 a.m. to 9:00 p.m.
Sunday: 12:00 p.m. to 9:00 p.m.
Prices:
Prices starting at $35.00
Hundreds of trees priced under $75.00
Sizes:
3 foot tall apartment trees
Most trees between 6 and 9 feet tall
Up to 13 feet tall
Almost 1000 trees to select from.
Accessories:
Stands starting at $5.00
Tree Life plant food additive: $1.50
No more needles tree bags: $2.50
Combo packs with tree bag and Tree Life: $3.50
Wreaths: $23.00, $26.00, and $38.00
Garland(Cedar and Douglas Fir): $6.00 per yard
Limb bundles: free
Mistletoe: $1.00
Services
Tree netting (vexar): $1.00
Free limb trimming
Free fresh cut on tree trunk (so tree will drink water)
Free delivery of trees (Amarillo area only) for trees 9 feet tall and taller
Tree Care:
Cut 1-2" off of bottom of trunk(Troop 80 will do this).
Store outside in the shade, standing in water, as long as possible. Mist Douglas Firs with water (with the lights off); they will re-hydrate through needles, other types will not.
Water tree using lukewarm water, not cold tap water.
Check water daily (some trees use up to 1 gallon a day). Do not let tree dry out, or it will not drink any more water.
Use chemical food additive (Seven Up, sugar, aspirin, etc., do not work).
Close air vents over or near tree.
Use a humidifier if you have a Noble Fir or Grand Fir.
Do not run tree lights excessively.
Open limbed trees: Douglas Firs, Noble Firs, Blue Spruce, Concolar Fir, Pinon Pines, Balsam Fir
Light weight ornaments only: White Pines, Sheared Douglas Fir
Long or large hanging ornaments: open limbed trees
Decorate at your own risk: Scotch Pine
Tree Decoration:
Bushy trees: Scotch Pine, Virginia Pine, White Pine, Plantation Firs, Sheared Douglas Fir, Grand Fir, Sheared Balsam Fir
Kinds of Trees Sold at Troop 80 Treeland.
| | | |
| --- | --- | --- |
| TYPES | WHERE GROWN | SIZE |
| Balsam Fir | Wisconsin | 6'-13' |
| Fraser Fir | Wisconsin | 3'-8' |
| Grand Fir | Idaho, Oregon | 6'-10' |
| Noble Fir | Washington | 5'-11' |
| Scotch Pine | Wisconsin, Washington | 4'-9' |
| Nordmann Fir | Oregon | 6'-9' |
All of our trees are plantation trees.  Plantation trees are grown on tree farms as a crop. The trees are usually 7-8 years old when harvested. They are watered, fertilized, and trimmed each year, to make them look like the trees on display on the lot. Some of the plantation trees(such as Scotch Pine) are dyed with a vegetable dye to turn them from golden yellow to green. Also, plantation trees are sprayed with fire retardant paint after cutting. That is what the plastic strips on the trees are for, to prove that they have been treated with this fire retardant paint. Christmas trees provide oxygen to the atmosphere and help filter pollutants from the air while they are growing. Trees are a renewable resource and can be recycled as a biodegradable substance, which can be used in gardening. Plastic trees are much more unfriendly to the environment, using non-renewable resources (such as oil), and are more difficult to recycle. Amarillo provides a free mulching service for trees at the end of the Christmas season. Other communities should be encouraged to do the same. Some trees grow in the wild and are cut off the mountain. Trees of this type are Colorado Firs (Concolar Firs) and Pinon Pines. Leases are sold by the Forest Service to tree cutters who harvest these trees for sale to tree lots.
We are a Proud Member of the National Christmas Tree Association
We are supported by many local businesses through our tree lot banner program.
If you have a tree lot in Amarillo or the surrounding area (Texas Panhandle) and would like to purchase through us, we also wholesale trees.  To become a wholesale customer please contact our Tree Specialist, Doug Sahli at dsahli@pandai.com.
In order to provide our Scouts with an exciting and affordable scouting experience with Troop 80, it is necessary to raise funds through Troop efforts in order to finance the various operations of Troop 80. Troop 80 raises funds primarily through the sale of Christmas trees lots and lots of Christmas trees.  Up to 1000 trees are sold each year. In order to do this, a large amount of volunteer time must be given by the parents of Troop 80 scouts.  Since your son has chosen to join the Troop, both Scouts and parents work on the lot during the selling season.The work on the tree lot, though often hectic, is fun and rewarding.  Also, through the continued efforts of patents and scouts on the tree lot, adequate funds can continue to be earned which will ensure the continued success of the Troop, thereby giving our Scouts the high quality scouting experience to which he is entitled.  Hope to see you on the lot this winter!