News
Troop 80 Schedule 2014 January Backpacking Camp  25th – 26th February Snow Camp  21st-23rd March Camp Haynes  21st-23rd April Sneed Ranch  25th-27th May White Water Trip  16th-18th June National Junior Leadership Training  1st-6th Advancement Camp (Camp Don)  22nd-28th July Wilderness Camp  July 25th-August 3rd August Oklahoma City Water Park  22nd-24th September Pecos Wilderness  19th-21st October Lonesome Cedar Family Camp  17th-19th November Campout TBD  7th-9th Treelot Setup  15th Treelot Opens  28th December Christmas Banquet   15th or 16th? ______________________________________________________ 2013 Troop 80 Schedule
Jan 19-20 Coetas Creek/Mullinaw Creek Hiking Campout Feb 19 Court of Honor Feb 23-24 Snow Camp Mar  23-24 Camp Haynes April 19-21 CampORee May 31- June 2 Canoe Camp (possibly Brazos River) May 21 Court of Honor June 19-14 NYLT June 20-23 Adv Camp July 20-28 Wilderness Camp Aug 16-18 OKC Whitewater Sept 13-15 Hiking/Biking Camp Sept 17 Court of Honor Oct 18-20 Family Camp Nov 8-10 Fishing Camp Nov 16 Treelot Setup Nov 29 Treelot opens Dec 6 Electric Light Parade Dec 17 Christmas Banquet
_________________________________________________________________________________
MK Brown Summary posted:
http://eightyscouts.org/our-camps/mk-brown/january-2012
________________________________________________________________________________________
2012 Troop 80 Schedule
 January
JLT – Jan 6-8 Merit Badge University (Council event) – Jan 21 Camp – MK Brown – Jan 28-29
February
Camp – Snow Camp – Tres Ritos – Feb 17-19 Court of Honor – Feb 21
March
Camp – Camp Don Shooting Camp – Mar 23-25
April
Greenhouse opening Camp – Camp Don Camporee – April 27-29
May
Greenhouse Court of Honor – May 15 Camp Haynes – May 18-20
June
NYLT (Council event) – June 5-8 Advancement Camp – Scott Ranch – June 14-17
July
Yellowstone – July 19-29
August
Camp – OKC Waterpark – Aug 17-19
September
Camp – Pecos Wilderness – Sept 7-9 Court of Honor – Sept 18
October
Camp – Watson Ranch – Oct 12-14 (Shooting Sports) Spookaree (date TBD)
November
Treelot Setup – Nov 3 Camp – Fishing Camp - Lake McClellan– Nov 9-11 Treelot Opens – Nov 23
December
Christmas Banquet – Dec 11 __________________________________________________________________________________________ CALLING ALL WEBELO SCOUTS!!! We would love to have you join us for our meetings. We meet every Tuesday from 7:00 to 9:00 at 1615 Bellaire. The building is located on Bellaire, off of Plains between Bell and Western. The last Tuesday of the month is swim night, so bring your suit and towel. We usually leave on our campouts around 5:30 or 6:00 on Friday evening. Everyone meets at the troop building. We usually return Sunday afternoon between 2:00 and 4:00. The boys usually call you from their cell phones, or borrow another boy's or adult's cell phone to call you, so you know exactly when to expect them to arrive at the troop building. Contact
Stephen Tillery
at (806) 676-2795 or Doug Walker at 341-4343 or check out the
Troop Calendar
for more information regarding upcoming camping opportunities.
---
_____________________________________________________________________________________________________________
Boy Scouts Answer the Call for Help
Thursday, December 10, 2009
Saturday morning, members of Lubbock's Troop 505 made a detour from a food drive when two frantic women flagged them down for help.
Read the full story here.
---
Call for ALL Photos
There are a lot of events we don't have pictures for, and we want to share what we do with the world! If you have ANY pictures, please bring them as soon as you can. You can ask one of the Troop leaders to place the pictures you have in electronic form (on your digital camera, on cd/dvd or other media) on the Troop computer, or you can send them in a zipped folder that contains your photos to
the webmaster
of this site. For instructions on how to create a zipped folder of pictures, see the following tutorials.
webmaster
or ask one of the leaders for assistance.
---
Our Scouts Know Christmas Trees Best!
For 12-year-old Cordell Sharp, the Christmas trees he sells during the holiday season have become a passion. . .
Check out the full story here.
---
---
Our deepest sympathy also goes out to the family of
Marion Elizabeth Fields Scott
who passed away October 25, 2009. She was the mother of Madison Scott who has generously permitted Troop 80 to camp at their ranch. Our prayers go out to the Scott family.
---
Our deepest sympathy goes out to the family of
Teel Bivins
who passed away October 26, 2009. He was a long time supporter of Boy Scouting and Troop 80. He was confirmed as Ambassador to Sweden in May of 2004 and served until 2006. He served as Texas State Senator from 1989 to 2004. Some of our older boys may recall him visiting the Troop 80 Treelot. Our prayers are with the Bivins family.
---
Facebook
Troop 80 has it's own social network! As of October 26, 2009 there were 91 members. Go to
Facebook.com
, set up a Facebook account and search for Troop 80 Amarillo. When you receive confirmation, you will have access to other Troop 80 scouts' Facebook pages.
---
---
Update on Addison Stucky
Celebrating the 4th of July!!!!!! Attached please find pictures of PFC Addison Stucky, U.S. Marine Corps (Troop 80 Eagle 05/04/05 – with many thanks to Walter and Eric). Currently stationed at Fort Sill, Oklahoma, for Marine Corps artillery training. We don't yet know where his permanent duty station will be or when he will ship out overseas.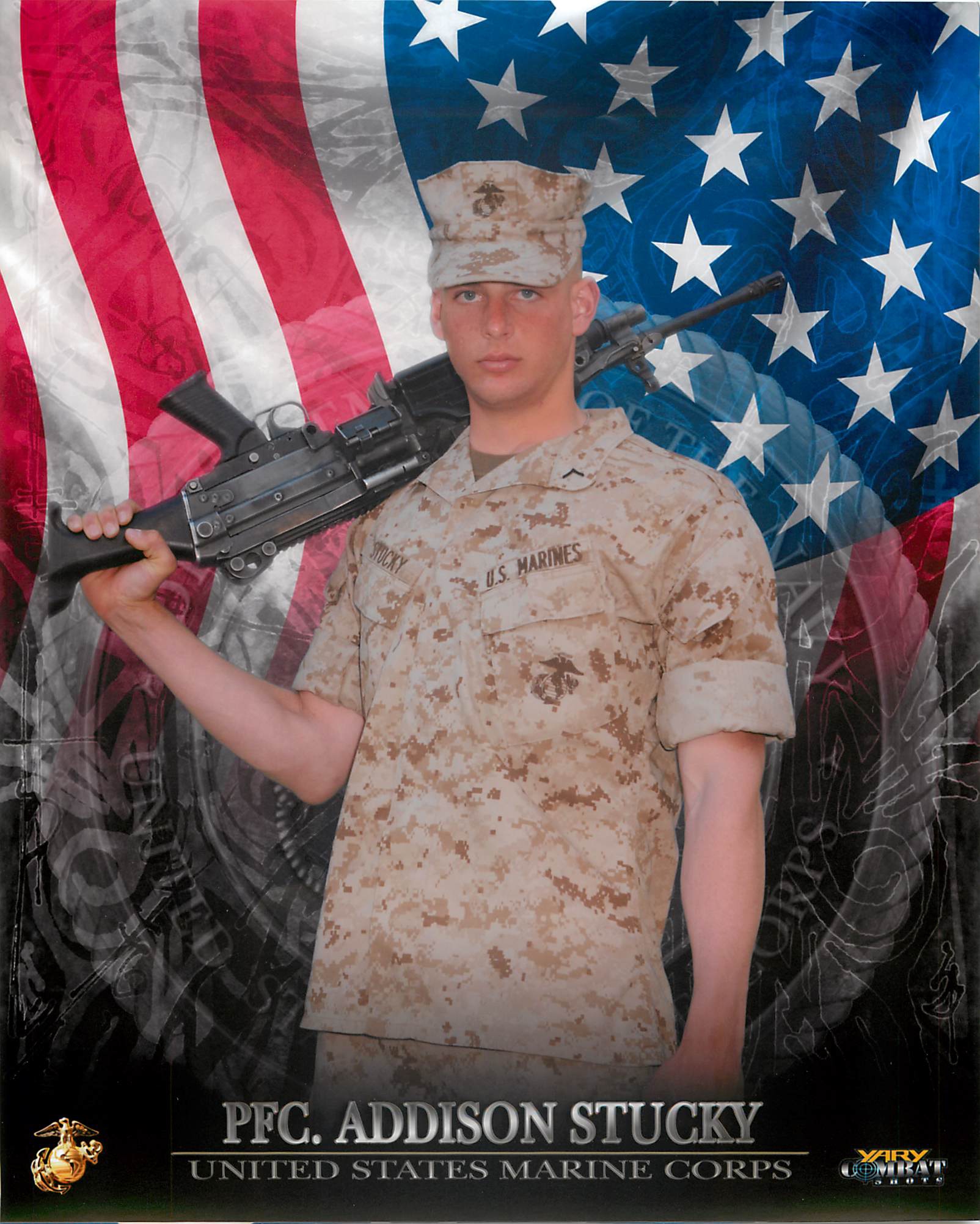 ---
From Aaron Amos
I just wanted to wish you guys a safe and wonderful trip. I know everybody has been busting their tails to get prepared for it, and it will all soon pay off, no doubt. I hope that everyone behaves and stays out of trouble, and that goes for adults too. Being on that bus for long periods of time nags on people, but since you guys are moving up in the world and purchasing Hi-Tech equipment, it will be nice and cool AND have some in-flight entertainment, I don't think you will have any problems. I wished that I was able to go along. Be safe and don't get lost in California. Take lots of pictures, I'll be looking forward to seeing them. Aaron Amos
---
Check out out Yosemite Trip 2009!
Visit the Trip Tracker Here
This link contains a map that shows the location of waypoints, summaries of some of the stops and many pictures of where the Troop went on this trip.
---
Committee Meeting!
There will be a Committee Meeting Tuesday 5/5/2009 after the regular Scout meeting.
---
Attention Men Going to Brazos
You must have passed your swim check before going on this camp. This Tuesday (April 28, 2009) if you can be at the Midtown YMCA at 7 PM, you can do your swim check before the Scouts get there for Swim Night. If you can't make that just come when you can. If you can't make Tuesday night at all, you will need to make arrangements with
John Standish
to get your swim check done. Safety first!
---
ATTENTION!!!
Due to the approaching weather, we will not attempt to go to Scott Ranch this weekend. Instead see the brief from the scoutmaster, Stephen Tillery, to see what we will do instead.
Due to the possible chance of severe winter weather this weekend, we are going to have a lock-in at the Troop 80 building this Friday night. We will get up and head to Camp Don Saturday morning as soon as the roads are clear to drive on. Friday night we will be watching movies, eating popcorn, and working on Scout skills. Saturday we will set up camp at Camp Don and do all of our Mini- Mini Camporee events. Please plan on buying your food and making all of your plans just as if it was a normal weekend campout. Parents: we always keep the safety of your sons as the top priority! Troop 80---- Rain or snow WE GO! Yours in Scouting, Stephen Tillery
---
"JTL In One Week!"
December 27, 2008 If your Scout plans on being a Patrol Leader, Assistant Patrol Leader, or Senior Patrol Leader this year, attendance is mandatory for your Scout. JLT starts Friday, January 2, and ends Sunday, January fourth. We will meet at the troop building at 5:30 on Friday and take the bus down to Camp Don Harrington. On this weekend the men will also be holding the Annual Planning Meeting. Patrol Leaders will receive their agenda books this weekend and will be trained for leadership in Troop 80. This weekend is not just all about work though; there is much fun to be had also. So, encourage your son to be a leader and attend this training and participate in being an integral part of Troop 80's success!
RSVP here
so we can get a head count.
---
Dues Are Due!!
If you haven't yet paid your dues, they are $35.00 and are due. Please
Peter Friend
to get them paid. Click on their names to send them an email.
---