Lodging
Come Stay with us!

The Jack Bryant Scout Center
For reservations contact
Doug Walker
at
806-341-4343
or by e-mail: e-mail Doug
Mailing address for reservations:
Eighty Scouts, Inc. c/o Doug Walker
6702 Daniel Dr
Amarillo, TX 79109
Phone: 806-341-4343
Please take a look at the map below if you need directions to the Jack Bryant Scout Center.
Our Physical Address is:
Jack Bryant Scout Center
1615 Bellaire Street
Amarillo, TX 79106
Open Year Round!
---
Reservations
For those who make advance reservations and bring their own bedroll and sleeping pad, The Jack Bryant Scout Center makes overnight accommodations available at  $5.00 per person per night with no minimum and require a reservation form and $10.00 (non-refundable) deposit to hold the reservation. Please contact our building representative,
Doug Walker
, and he will send your group a detailed information package.
Accommodations
Our accommodations include rest rooms, showers, and a committee room with its own doors, and a small training Room.  Bring your own cots and bedrolls.  There are lots of things to do at and around the Scout Center. Many troops use our facilities while passing through to Philmont Scout Ranch or camps in Colorado.  We had close to 850 scouters stay with us last year and are expecting as many this year.   We do book multiple troops per night depending on numbers.  Our building also has wifi access for your convenience.  There is also a basketball goal in our North parking lot.  If you show up on a Tuesday evening, you can join in our Troop meeting from 7-9 pm.  If you are here during the summer, check out Palo Duro Canyon and the world famous "Texas" production in the canyon or check out the Kwahadi Indian Dancers at their Kiva and Museum. Book your lodging early since June and July dates fill up fast.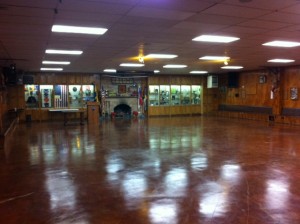 History of the Scout Center
The land for this center was initially acquired in 1962. Winston Smith, attorney with the Underwood, Wilson Law firm provided the title work. The building was
built and opened in 1967
.  A
new roof
was
installed
in 2006. The building was renamed and dedicated in 1991 as the Jack Bryant Scout Center in honor of Jack Bryant, Scoutmaster of Troop 80 from 1955-1985. The facilities which house the
Fred Poppe Scout Museum
were installed in late 1997 and early 1998, under the direction of
Walter Wolfram
and
Bob Wieck
In March 1955, Jack Bryant agreed to serve as "Interim" Scoutmaster, a position in which he remained until March 1985, at which time he became Scoutmaster Emeritus, a position he held until his death in January 1994. He was an
Eagle Scout
, a Wood Badger; held the Honor of Silver Beaver and Silver Antelope. He also served as President of the Llano Estacado Council (now the
Golden Spread Council
) of the Boy Scouts of America.
Current Weather Conditions
View Larger Map
View Larger Map
Need gear?